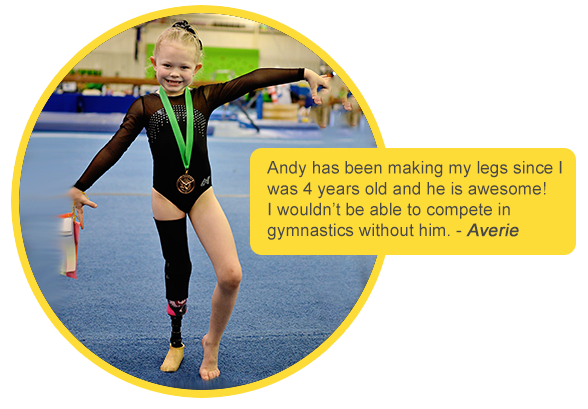 At Celerity Prosthetics in Oklahoma City, our experienced and friendly team is standing by to offer a full range of custom upper and lower prosthetic services. We serve both adults and children and focus on discovering, meeting, and exceeding our patient's unique individual needs.
We are family owned and take great pride in treating each of our patients like part of our family. For nearly two decades, certified and licensed prosthetist Andy Anders has been serving the community and caring for patients with prosthetics.
At Celerity Prosthetics, we offer complete, A-to-Z prosthetic services. These include, but are not limited to:
Pre- and post-amputation consultation
Upper and lower extremity prosthesis
Fabrication and customization
Prosthetic care and instruction
Evaluations
Diagnostic fittings
Routine follow up care
Amputee advocates and support
If you need help with something you don't see above, there's a great chance we can help anyway—just ask!
If you would like to communicate with a friendly, knowledgeable member of our staff immediately, please feel free to dial (405) 605-3030 now, or come and see us at our convenient Oklahoma City location on Walker Avenue. We would also be pleased to come to you; learn more about our mobile prosthetic service.
Throughout the rest of this page, we'll take a few minutes to discuss the services we provide for upper and lower prosthetics in more detail.
Let's begin with a brief overview:
Celerity Prosthetics in Oklahoma City Offers Both Upper and Lower Extremity Prosthetic Services
The term extremity refers to the outermost parts of the body—the arms, legs, hands, and feet. Thus, upper extremity prosthetic care can be split into two categories which deals with the above elbow and below elbow, and lower extremity prosthetic care deals with the legs and feet. Lower extremity prosthetic care is often split into two subcategories: Above the Knee (often abbreviated as simply AK) prosthetics, and Below the Knee (or BK) prosthetics.
At Celerity Prosthetics, we offer a full range of services for both upper and lower extremity prosthetic care,
Upper extremity prosthetics and services offered
Why we pay special attention to the fit and proper alignment for upper extremity prosthetics
Lower extremity prosthetics and services offered
How our mobile prosthetic service works
Information for medical professionals and patient referrals
What to do next if you need help with prosthetic care
Let's continue by discussing upper extremity prosthetics and providing a rough overview of the services we offer at Celerity Prosthetics:
Upper Extremity Prosthetic Services: Fittings, Programming, Maintenance and Overall Care
Regardless of where you are in the process of receiving prosthetic care, the first step we recommend to our new patients is to schedule an examination with our certified and friendly staff at Celerity Prosthetics.
This initial meeting will reveal a lot of important information which will help our team discover how to best serve you moving forward. This is true even if you already have a prosthetic device. If you already have a prosthetic, we'll be able to find out what's working, what isn't, and what needs attention to regain full motion and functionality.
At Celerity, we specialize in providing the latest prosthetic technology, including for custom fittings. Sometimes our bodies change and new fittings are needed; we can help with this too. If you opt for a custom prosthetic, you'll participate in our fitting process which will shape the prosthetic device to fit your upper extremity comfortably and with optimal functionality.
We also provide maintenance and repairs for your already existing prosthetic. Our maintenance services are extremely rigorous—we inspect the artificial limb in detail and test all components. Adjustments or component replacements are made as required to ensure that the device is providing a full range of motion and functionality once again.
At Celerity Prosthetics, we pay special attention to the process of training and programming your upper extremity prosthetic for reasons which we'll discuss below.
Why Getting Flexation Right is so Important for Upper Extremity Prosthetic Care
The process of training and programming a prosthetic device is key for flexation, the process by which the prosthetic responds to your input.
Regardless of the type of prosthetic you have (or receive from us), including both myo-electric and conventional body power prosthetics, we have a great deal of experience in training the upper extremities of our patients to make sure that the device provides not only full motion, but flexation (such as gripping) through programming the prosthetic device appropriately. This fine-tuning can have dramatic results on overall performance.
Lower Extremity Prosthetics: Fittings, AK/BK Maintenance, and Overall Care
Whether you need to be fitted for your first prosthetic or you need help maintaining, repairing, or re-fitting your already existing lower extremity prosthetic, our team at Celerity Prosthetics is here to help.
If it's your first time visiting with us for a new prosthetic, we begin by performing an initial evaluation and discuss your needs. Once we have determined what will best suit your needs, we will then take a cast of the residual limb. We will modify the mold, fabricate a test socket and fit the socket to the individual. Once we have achieved a good fit and alignment we will then transfer the prosthesis to the light weight laminated design. The individual can choose to add graphics or colors to the the socket as well as a shape and cover to resemble the sound side limb. The ultimate goal is to provide the client functionality, and comfort. Our custom fit prosthesis are designed to shape the artificial limb to your body, which not only increases function, but—crucially—comfort as well.
At Celerity, we service both above the knee and below the knee (AK and BK) prosthetics. Regardless of your needs, our team will treat you with compassion and professionalism.
We'll Come to You – Try Our Revolutionary Mobile Prosthetic Services are Available Throughout Oklahoma
One of the more unique offerings we have at Celerity Prosthetics is our unique mobile prosthetic service. Oftentimes it can be difficult to travel, particularly for new patients—that's why we eliminate the problem and come to you.
Our team is fully equipped to provide high quality prosthetic care no matter where you are; we often visit patients in the comfort of their own homes, nursing or rehabilitation facilities, or hospitals throughout our service area.
See here to learn more about our mobile prosthetic service in Oklahoma in greater detail.
Information for Medical Professionals
If you're a medical professional considering referring your patient to Celerity Prosthetics, we encourage you to visit our page dedicated to medical professionals or reviewing this helpful guide for physicians (PDF link) on how to refer your patient to a prosthetist. You'll find a helpful series of suggestions for what information you should collect and submit with the referral, such as the results of a physical exam, the patient's amputation history and prognosis, and so on. Please review it carefully so that we can provide your patient with the care they deserve!
If You Need Help With Your Upper or Lower Prosthetics, Here's What to do Next
Need help, more information, or simply have questions that weren't answered here?
Our team of compassionate and knowledgeable experts are standing by to take your call. Please feel warmly encouraged to contact us at your earliest convenience by dialing (405) 605-3030.
If you're looking for information about animal and pet prosthetics, please click here. [LINK TBA]